Argentina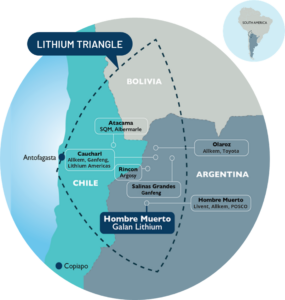 On the fast track to 34 ktpa lithium carbonate production with two highly complementary lithium brine projects across approximately 36,000 hectares on the Hombre Muerto salar in Argentina.
The Hombre Muerto and Atacama salars host the world's largest reserves of lithium, delivering 60% of current global annual production.
Galan Lithium Limited owns, through its wholly owned Argentinian subsidiaries (Galan Litio S.A. and Galan Exploraciones S.A.), a 100% interest in multiple lithium brine projects located within the Hombre Muerto salar.